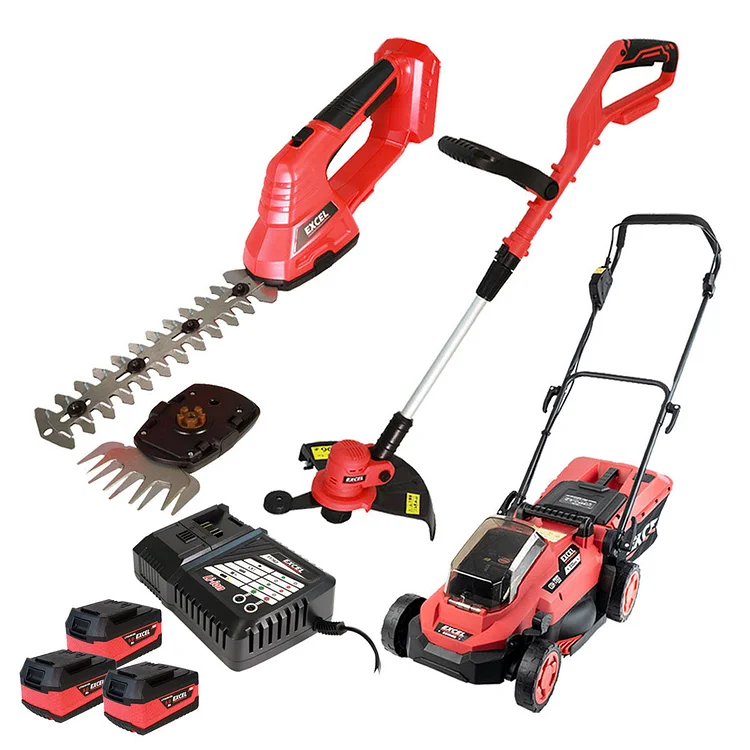 Large 30cm Trimming Diameter
Telescopic adjustable handle
3 x 5.0Ah Batteries
1 x Smart Charger
Excel 18V 3 Piece Garden Power Tools with 3 x 5.0Ah Battery & Charger EXL15001
Key Features:
Grass Trimmer Cutter:
Design: Lightweight ergonomic design with soft grip rubber handles offers complete mobility and comfortable operation.
Ease of Use: The lawn trimmer is equipped with a three position adjustable working angle. This enables you to easily trim hard-to-reach areas in your garden. You can adjust the hand according to your requirement from 0 to 90 and 180 degree.
Intended Use: This trimmer is ideal for trimming lawn edges and small lawn areas in private gardens. The trimmer should not be used in public gardens parks sports grounds streets etc. and in farming and forestry.
Machine Main Parts: Lock off button Main handle On/Off switch Auxiliary handle Handle rotation button Telescopic shaft locking collar Telescopic shaft Cutting head adjusting button Safety guard Spool and Edge wheel.
Hedge Trimmer Cutter:
2-In-1: Our 2-in-1 Grass & Hedge Trimmer is the perfect tool for your gardening needs as you can easily swap the interchangeable blades to tackle whatever your garden throws at you.
Compact & Lightweight: This hedge trimmer is lightweight & compact in design yet it is extremely powerful. It has the perfect size to reach difficult areas so that all of your hedges are neat and tidy.
Intended Use: This product is intended for light trimming of shrubs hedges and lawn edges. This tool is not designed for commercial trade or industrial use. The best results are achieved when the lawn is dry.
Machine Main Parts: Safety lock-off On/Off button Grass cutter blade Blade release mechanism Grass blade guard Pruning blade guard and Shrub cutter blade.
Lawn Mower:
5 Adjustable Cutting Heights: The mower has 5 different cutting height adjustment. The cutting height ranges from 25mm to 75mm.
Variable Speed Motor: The motor adjusts the blade rotations to match the load (length and thickness of the grass). You will therefore hear that the motor speed will go up/down while cutting the grass.
Safety Key: The motor unit has a safety key which is placed under the battery cover.
30L Grass Collection Bag: Equipped with a 30L grass box with grass level indicator compacting the grass clippings for less emptying and longer mowing times.
Easy to Carry: Its easy to carry feature enabling you to transport the lawn mower to and from the garden with ease.
Intended Use: The lawn mower has been designed for cutting grass and any other use is not permitted. The lawn mower for use in private gardens that are primarily used for tending grass or lawn areas but not in public facilities parks or sports grounds and not for agricultural or forestry use commercial purpose.
Comes With:
3 x 5.0Ah Batteries
1 x Smart Charger
Specification:
Grass Trimmer Cutter:
Brand: Excel
No-load Speed: 8500/min
Cutting Width: 300mm
Spool: Line Diameter - 1.6mm Single
Vibration: <2.5m/s² K = 1.5m/s²
Sound Emission Level LpA: 84.07 dB(A) K = 0.47 dB(A)
Sound Power Level LpA: 96.07 dB(A) K = 0.47 dB(A)
Hedge Trimmer Cutter:
Brand: Excel
No-load Speed: 1200rpm
Hedge Trimmer Cutting Length: 200mm
Hedge Trimmer Teeth Distance: 8mm
Grass Shear Cutting Width: 100mm
Hedge Trimmer Sound Pressure (LpA): 63.2 dB(A) K = 3 dB(A)
Hedge Trimmer Sound Power (LwA): 83.2 dB(A) K = 3 dB(A)
Hedge Trimmer Vibration (Ahv): 2.6m/s² Uncertainty K = 1.5m/s²
Grass Shear Sound Pressure (LpA): 64 dB(A) K = 3 dB(A)
Grass Shear Sound Power (LwA): 84 dB(A) K = 3 dB(A)
Vibration (Ahv): ≤ 2.5m/s² Uncertainty K = 1.5m/s²
Guaranteed (LwA): 87 dB(A)
Lawn Mower:
Brand: Excel
No-load Speed: 2900/min
Maximum Cutting Length: 330mm
Cutting Height: 5 Levels (25-75mm)
Front/Rear Wheel: 5.5/6.5
Grass Box Volume: 30L
Sound Emission (LwA): 68 1dB(A) K = 3dB(A)
Sound Power (LwA): 80 5dB(A) K = 225dB(A)
Guaranteed (LwA): 96dB(A)
**images for illustrative purposes only – please refer to description and specification for full details of product**
Shipping: Free shipping on all orders! !
All orders are eligible for free shipping. Please note that it may take up to 5-7 business days to prepare products and ship.
Once your order has shipped, you will be emailed tracking details and should expect your order in about 10-15 business days.
Return: Happy customers make us happy!!!
If for any reason you are not satisfied with your order, return it within 90 days for a full refund.
Shipping: Free shipping on all orders! !
| | |
| --- | --- |
| Product / Shipping Method | USPS / FedEx |
| Processing Time | 5-7 Business Days |
| Shipping Time | 10-15 Business Days |
| Total | 15-22 Business Days |
Orders may take up to 5-7 business days to assemble and ship but most orders have a turnaround time of about 72 hours. Customers who select "Standard Shipping" should expect to receive their orders between 10-15 business days from the date of purchase.
Tracking details will be emailed to you once your order has shipped.
COVID-19
Novkwrj Online is open online and we're shipping as usual.
Please note there may be delays in some cases, though we are doing our utmost to minimize this.
P.O. Box Shipping
Most items can be delivered to P.O. Boxes. Please note that this may result in a change of carrier or shipping cost. We are unfortunately not able to ship to APO or FPO addresses.
During Holiday times such as Christmas, there may be slightly delayed shipments. If we have addressed issues, we always reach out to customers for confirmation. Thus, in rare circumstances, it may take a few days longer.
We are currently working on setting up quicker/expedited shipping methods!
Please make sure to reach out to us in the event that you experience a longer than usual wait time.
Our customer service team will always respond within 24 hours! beaut@fuhaonline.shop.
More Info:
Very rarely, do products get lost in transit! When they do, it's up to you to notify us so we can help you out! Please reach out if this ever happens. We'll do everything we can for you. Reach us at beaut@fuhaonline.shop.
Processing:
Delays may occur based on orders being placed on holidays or weekends or pandemics.
Packages will arrive within the estimated time stated above after it has been processed.
If there are any shipping or processing delays on your order, we will notify you as quickly as possible to ensure customer satisfaction.
Next-Day Delivery
We do not have this option available. Time constraints simply do not allow for next-day delivery.
Tracking:
We update tracking information as soon as the label for the order is printed.
We send a tracking confirmation email for your convenience as soon as the tracking has been updated.
If your tracking shows that the "shipping label is created" but you don't see any updates, please allow 1-3 days for an update.
Lost Package?
If your product hasn't arrived within the estimated time please contact us so we can help resolve the matter! Email us at beaut@fuhaonline.shop
If your product shows that it has been delivered, but you haven't received your package, please contact us immediately! We will help out in every way that we can. Email us at beaut@fuhaonline.shop
More Information:
We DO NOT offer refunds for any reason while products are IN TRANSIT.
We will of course always work with you once you receive the products or before we ship them!
Free returns
Returns are FREE!
Whatever the reason, the item(s) in your order can be returned for a refund hassle-free
Visit our Return Exchange Form within 90 days of receiving your order to print your returns label
For more information please visit our Returns page