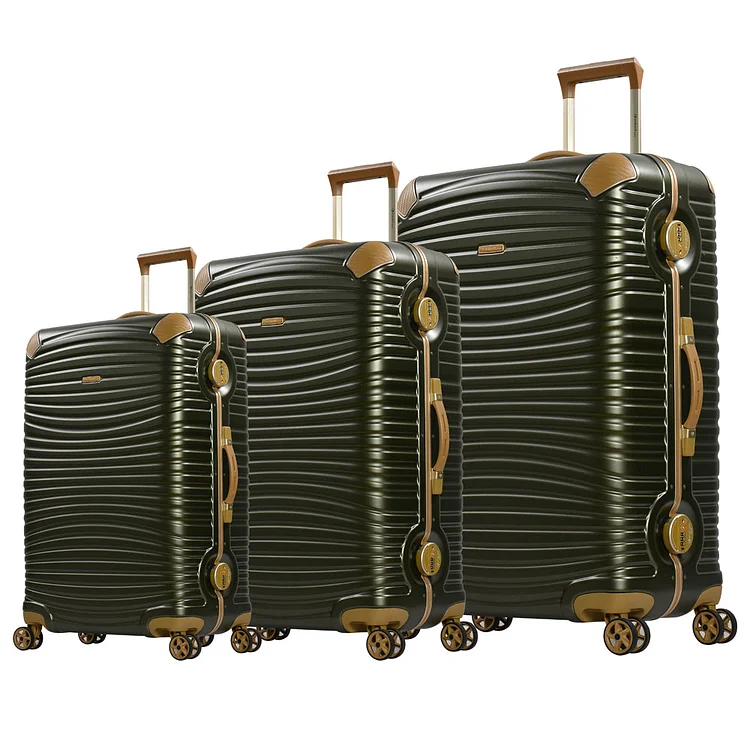 Premium Quality Material: Our luggage set is made of good quality hard Polycarbonate material for the hardshell which makes our spinner luggage set more sturdy, lightweight and impactresistant. Its lightweight construction helps you to maintain airline weight restrictions. The perfect luggage solution for all individuals. Its durable yet lightweight material provides longlasting usage and safety.
Lockable, Multistage Telescopic Handle: Ergonomic handle of our suit case set is extra lightweight while maintaining a high standard for shock absorption. Our lightweight luggage set is having four double spinner wheels can be easily dragged along the road or airport that ultimately provides easy & smooth maneuverability and relieves any pressure from your arms while you are on the move. The modern unique design of its surface makes your luggage stand out.
Various Sizes to Meet All Your Needs: Set of 3piece carry on duffle with spinner wheels 20+24+28 inches. 20 inches small suitcase with 7kg capacity. 24 inches medium size suitcase with 20kg capacity. 28 inches large piece suitcase with capacity 30kg. These all pieces are shaped in such a way that you can place all your travel belongings in it so easily and all your stuff will be well arranged. Excellent choice for Longdistance business trips and tours.
MultiDirectional Silent Double Spinner Wheels: It's a 3piece Lightweight, durable and hard case luggage set that allow smooth 360 DEGREEdegree movement over any area, for complete mobility freeweight rolling. This hard side luggage set has a zip pocket on one side & a tie cross bands on the other side that keeps your personal stuff secure and well organized always. 2 options closure zipper and aluminum frame give you preferable choice.
Satisfaction Guaranteed: We believe in the quality of our 3piece luggage set and the satisfaction of customers is our number one priority. We Provide 3 years International Warranty of this product. If you are not happy and satisfied with our spinner suitcase set for any reason, please feel free to contact us for a full refund. Your compliments and complaints about our spinner luggage set hardshell are highly appreciated and welcomed.
From the manufacturer
Eminent - for People on the move
The Eminent hard-side double spinner zipper-less set offers some serious packing space--perfect for short weekend getaways or extended vacations.
Eminent - for People on the move After 40 years of research & innovation, Eminent has established itself as the leading manufacturer & designer of first-class luggage In addition to exceptional quality, design and functionality, we have always worked to perfecting and personalize our products to satisfy the needs of people worldwide.
Overseas or overnight - on the roads, in the air, around the planet, Eminent is always by your side - from extensive luggage to business suitcases. Strong and practical companion – Eminent Boulder: lightweight. Our Eminent case is between 10-20% lighter than other suitcases such as aluminum cases or suitcases made of PP, PC or ABS. The high-quality workmanship offers you a super light yet durable case.
IATA Standard Our board trolley meets the IATA standards with 55 x 37 x 20 cm and can be easily carried in hand luggage with Aeroflot EasyJet Emirates Euro wings Iberia Lufthansa or British Airways. Why Eminent? As one of the 3 top brands in Europe in the area of luggage and travel bags, we offer our customers a 5-year w-arranty EU-wide repair and spare parts service.
Eminent has launched E9R1, 2020 collection of luggage, this is the one of the bestselling luggage, since its launch.
| | | | |
| --- | --- | --- | --- |
| | Blue | Olive | Red |
| Sizes | 20, 24, 28 | 20, 24, 28 | 20, 24, 28 |
| Weight | 3.1 kg | 4.1 kg | 4.7 kg |
| Material | PP (Polypropylene) | PP (Polypropylene) | PP (Polypropylene) |
| Wheels | 4 Wheel | 4 Wheel | 4 Wheel |
| Handles | Retractable handles | Retractable handles | Retractable handles |
| Lock type | Combination lock | Combination lock | Combination lock |
| Model | E9R1 | E9R1 | E9R1 |
| Capacity | 7 kg | 20 kg | 30 kg |
Hard Shell with Scratch-Resistant Finish

The Eminent luggage features a protective hard shell for strength and peace of mind when it comes to knowing stored items won't be crushed in route. The hard shell's durable scratch-resistant finish offers added strength, helping to keep the luggage looking like new even after rough and tumble travel conditions.

Fully Lined Interior with Divider and Zippered Pockets

Fully lined, the luggage protects stored items from scratches and snags, while its handy divider helps keep everything neatly separated.

An interior organizer, made of 150D polyester for exceptional strength, includes separate zippered pockets that work well for securely storing smaller items, like important papers, accessories, or phone cords and chargers.

Telescoping Handle and Securely Mounted Short Handle

For added convenience, the Eminent Hard-side double Spinner luggage comes equipped with a user-friendly telescoping handle that locks into place. Extend the handle when rolling the luggage, and then collapse it down in one smooth move for compact storage when not in use or when placing in the trunk or closet.

The securely mounted (and thoroughly tested) short handle offers rugged strength for stable lifting, unlike the competition, where the short handle is attached less securely.

Four Double Spinner Wheels

Maneuverer the luggage around with ease thanks to its four double spinner wheels. It's a 4 piece Lightweight and durable hardcase luggage that allow smooth 360°-degree movement over any area, for complete mobility free-weight rolling.
Available Colours
From the bright and stylish design to the accent pops of colour, you will never have to worry about keeping track of these eye-catchers!
(Red, Olive, Blue)
Protective hard shell
Made of extra-thick ABS for enhanced strength

Scratch-resistant finish

Fully lined interior with divider

150D-polyester interior organizer with zippered pockets

Solid, strong zippers / 4 Double spinner wheels

Telescoping handle / Securely mounted short handle

TSA Lock
Eminent Product Testing

To ensure the highest quality luggage for flight crews and routine travellers, the Eminent testing team conducts a full range of rigorous qualification protocols across its entire line of luggage. Eminent strict quality-testing procedures simulate the conditions of real-world travel usage, and the testing covers multiple components like overall stability, dynamic handle strength, and castor and wheel durability.

Stability test

Active-handle-strength test

Castor/roller-durability test

Drop test, Zipper test, Colorfastness test

Seam-strength test, Control-elements test, Stacking-capacity test

Effects-of-extreme-temperature-change test

Effects-of-humidity-exposure test

Resistance-to-corrosion test
Shipping: Free shipping on all orders! !
All orders are eligible for free shipping. Please note that it may take up to 5-7 business days to prepare products and ship.
Once your order has shipped, you will be emailed tracking details and should expect your order in about 10-15 business days.
Return: Happy customers make us happy!!!
If for any reason you are not satisfied with your order, return it within 90 days for a full refund.
Shipping: Free shipping on all orders! !
| | |
| --- | --- |
| Product / Shipping Method | USPS / FedEx |
| Processing Time | 5-7 Business Days |
| Shipping Time | 10-15 Business Days |
| Total | 15-22 Business Days |
Orders may take up to 5-7 business days to assemble and ship but most orders have a turnaround time of about 72 hours. Customers who select "Standard Shipping" should expect to receive their orders between 10-15 business days from the date of purchase.
Tracking details will be emailed to you once your order has shipped.
COVID-19
Novkwrj Online is open online and we're shipping as usual.
Please note there may be delays in some cases, though we are doing our utmost to minimize this.
P.O. Box Shipping
Most items can be delivered to P.O. Boxes. Please note that this may result in a change of carrier or shipping cost. We are unfortunately not able to ship to APO or FPO addresses.
During Holiday times such as Christmas, there may be slightly delayed shipments. If we have addressed issues, we always reach out to customers for confirmation. Thus, in rare circumstances, it may take a few days longer.
We are currently working on setting up quicker/expedited shipping methods!
Please make sure to reach out to us in the event that you experience a longer than usual wait time.
Our customer service team will always respond within 24 hours! beaut@fuhaonline.shop.
More Info:
Very rarely, do products get lost in transit! When they do, it's up to you to notify us so we can help you out! Please reach out if this ever happens. We'll do everything we can for you. Reach us at beaut@fuhaonline.shop.
Processing:
Delays may occur based on orders being placed on holidays or weekends or pandemics.
Packages will arrive within the estimated time stated above after it has been processed.
If there are any shipping or processing delays on your order, we will notify you as quickly as possible to ensure customer satisfaction.
Next-Day Delivery
We do not have this option available. Time constraints simply do not allow for next-day delivery.
Tracking:
We update tracking information as soon as the label for the order is printed.
We send a tracking confirmation email for your convenience as soon as the tracking has been updated.
If your tracking shows that the "shipping label is created" but you don't see any updates, please allow 1-3 days for an update.
Lost Package?
If your product hasn't arrived within the estimated time please contact us so we can help resolve the matter! Email us at beaut@fuhaonline.shop
If your product shows that it has been delivered, but you haven't received your package, please contact us immediately! We will help out in every way that we can. Email us at beaut@fuhaonline.shop
More Information:
We DO NOT offer refunds for any reason while products are IN TRANSIT.
We will of course always work with you once you receive the products or before we ship them!
Free returns
Returns are FREE!
Whatever the reason, the item(s) in your order can be returned for a refund hassle-free
Visit our Return Exchange Form within 90 days of receiving your order to print your returns label
For more information please visit our Returns page