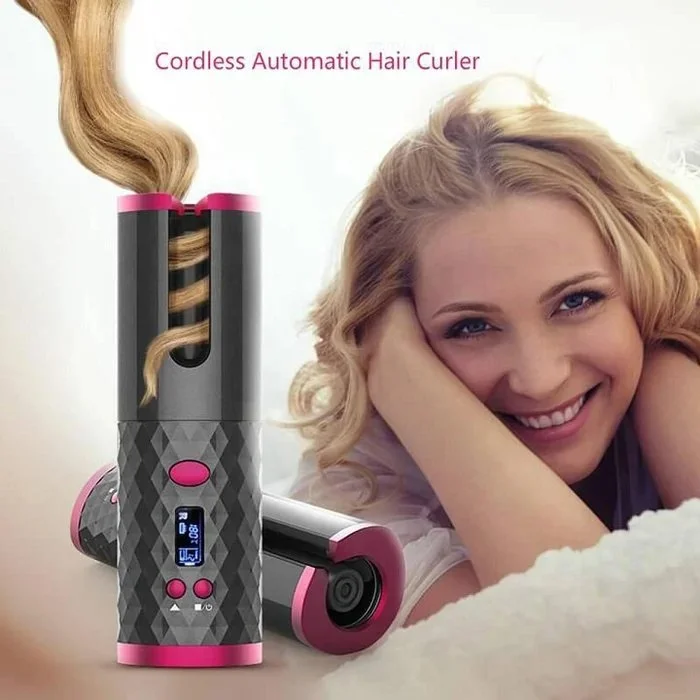 Automatic curling iron is the perfect new high-tech modeling tool for those who are not used to using traditional wired curling irons.
Easy to Use - Say goodbye to tradition curling iron or curling wand. No worry about finding power supply anymore. No skill required. Learned how to use within 1 minute. Everyone can be a hair curling expert!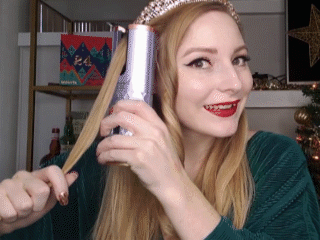 LCD Display Large LED display presents clear temperature direction and timer it presents more readable and convenient use.
Two-Way Rotating With the latest two-way rotation technology you only need to set the direction of rotation and put the hair in to create a perfect curl. Easy to operate.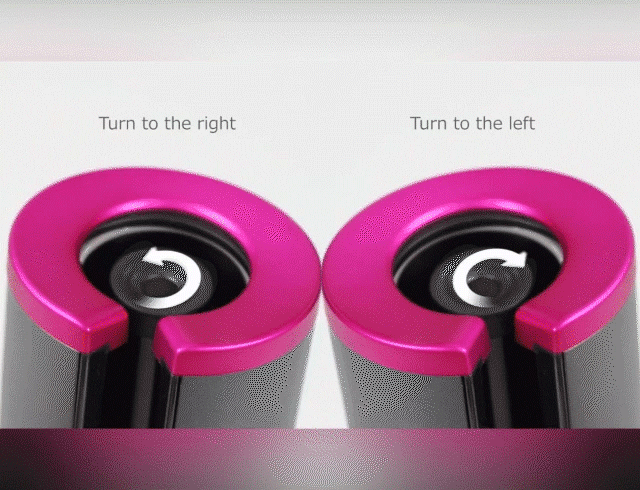 Intelligent System wireless automatic curling iron can freely set the temperature (150 ° C 180 ° C 200 ° C) curling time (8S 14S18S )and the direction of the curls (left or right).
USB Input and Output It takes about 4.5 hours to charge the curling iron. It can be used for up to 60 minutes and uses 5000 mAh lithium-ion battery meanwhile can also be used as a power bank
Easy Use & Portable The barrel will auto spin around and wrap section of hair into curling chamber. Easy to carry when traveling can curl your hair anytime and anywhere far away from the trouble with the line.
Hair RepairCured Plant protein coating of curling iron can effectively repair damaged hair and make it softer and smoother.

Automatic shutdown function; intelligent system (freely set temperature curl time and curl direction); 6 temperature options and timer (300 ° F-390 ° F temperature selection and 8-18s automatic curl timer)
Customer questions & answers:
Q: will this work for shorter hair?
A: Perfect for short hair.
Q: how to use it to avoid tangle?
A: please comb your hair to remove knots before curling place no more than 1/2''-1'' strand of hair into curl chamber for each curling.
Q: Does the hair burn?
A: the instructions say 1 inch if you follow the instructions this toy is easy to use and makes a beautiful curl in a matter of maybe 30 seconds or less it never got hot enough to burn no ones hair never tangle and never burn.
Q: Does this work for short hair?
A: Both my daughter and I have long hair. I guess but would depend on how short. I will say it is an awesome product .
Q: Will it get my hair tangled up?
A: Why it get tangled?
1: didn't comb hair to remove knots
2: put too much hair to curl chamber

Q: How to do when it get tangled?
A: 1: release start button and pull hair out gently
2: comb the section of hair to remove knots and make it smooth
3: place less section of hair into curl chamber
Q: What are the best temperature/time setting for thin hair?
A: It depends for what types of curled hair you want:
for a loose curls you can set 300-340°F and timer 8-12s
for a tight curls you can set 360-390°F and timer 13-18s
I hope this may help
Q: Will it automatically switch off?
A: Yes it will automatically switch off after 10 mins with no using.
Q: Does this product work for black people with natural hair?
A: I have Latina curly thick hair and it works amazingly.
Shipping: Free shipping on all orders! !
All orders are eligible for free shipping. Please note that it may take up to 5-7 business days to prepare products and ship.
Once your order has shipped, you will be emailed tracking details and should expect your order in about 10-15 business days.
Return: Happy customers make us happy!!!
If for any reason you are not satisfied with your order, return it within 90 days for a full refund.
Shipping: Free shipping on all orders! !
| | |
| --- | --- |
| Product / Shipping Method | USPS / FedEx |
| Processing Time | 5-7 Business Days |
| Shipping Time | 10-15 Business Days |
| Total | 15-22 Business Days |
Orders may take up to 5-7 business days to assemble and ship but most orders have a turnaround time of about 72 hours. Customers who select "Standard Shipping" should expect to receive their orders between 10-15 business days from the date of purchase.
Tracking details will be emailed to you once your order has shipped.
COVID-19
Novkwrj Online is open online and we're shipping as usual.
Please note there may be delays in some cases, though we are doing our utmost to minimize this.
P.O. Box Shipping
Most items can be delivered to P.O. Boxes. Please note that this may result in a change of carrier or shipping cost. We are unfortunately not able to ship to APO or FPO addresses.
During Holiday times such as Christmas, there may be slightly delayed shipments. If we have addressed issues, we always reach out to customers for confirmation. Thus, in rare circumstances, it may take a few days longer.
We are currently working on setting up quicker/expedited shipping methods!
Please make sure to reach out to us in the event that you experience a longer than usual wait time.
Our customer service team will always respond within 24 hours! beaut@fuhaonline.shop.
More Info:
Very rarely, do products get lost in transit! When they do, it's up to you to notify us so we can help you out! Please reach out if this ever happens. We'll do everything we can for you. Reach us at beaut@fuhaonline.shop.
Processing:
Delays may occur based on orders being placed on holidays or weekends or pandemics.
Packages will arrive within the estimated time stated above after it has been processed.
If there are any shipping or processing delays on your order, we will notify you as quickly as possible to ensure customer satisfaction.
Next-Day Delivery
We do not have this option available. Time constraints simply do not allow for next-day delivery.
Tracking:
We update tracking information as soon as the label for the order is printed.
We send a tracking confirmation email for your convenience as soon as the tracking has been updated.
If your tracking shows that the "shipping label is created" but you don't see any updates, please allow 1-3 days for an update.
Lost Package?
If your product hasn't arrived within the estimated time please contact us so we can help resolve the matter! Email us at beaut@fuhaonline.shop
If your product shows that it has been delivered, but you haven't received your package, please contact us immediately! We will help out in every way that we can. Email us at beaut@fuhaonline.shop
More Information:
We DO NOT offer refunds for any reason while products are IN TRANSIT.
We will of course always work with you once you receive the products or before we ship them!
Free returns
Returns are FREE!
Whatever the reason, the item(s) in your order can be returned for a refund hassle-free
Visit our Return Exchange Form within 90 days of receiving your order to print your returns label
For more information please visit our Returns page